10 Best Outdoor Watches of 2019 for Adventure Enthusiasts
10 Best Outdoor Watches of 2019 for Adventure Enthusiasts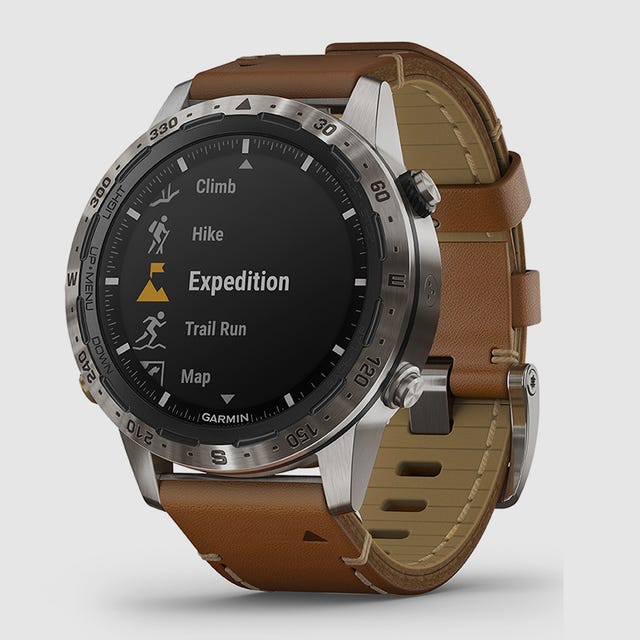 Associated Retailers
Getting away from the myriad screens we see everyday, from smartphones to computers to e-readers, and spending some quality time in nature is an essential element of a healthy lifestyle, but there's one gadget we recommend taking along for the ride on your next outdoor adventure.
Today's smartwatches and fitness watches are filled with features you can't take advantage of on a typical treadmill runs. Where smartwatches and fitness trackers really demonstrate their power is in the great outdoors. Features like a compass, GPS to track your location, and an altimeter to measure elevation take your smart timepiece from being a useful toy to actual survival tool when backpacking, snowboarding, or trail running.
We picked out the 10 best outdoor watches available now—from an affordable adventure watch to the best hunting watch—to meet the needs of every kind of nature activity you have planned. Because getting away from it all and partaking in some exercise outside is one of our favorite ways to recharge, but a little technology can make it that much better.
Advertisement – Continue Reading Below
Timex Ironman Classic 30-Lap Mid-Size Watch
Let's say you're most commonly enjoyed outdoor activity is running the local track rather than climbing a mountain. In that case, you can get away with purchasing an outdoor watch for under $100. We'd recommend a budget-friendly, cheap outdoor watch like the Timex Ironman Classic 30-Lap (you can't beat the price), which isn't a smartwatch but gets the job done when it comes to tracking your laps or running times.  
Fossil Sport Smartwatch
An easy-to-read display and sporty silicone band make the Fossil Sport Smartwatch a good entrée to the world of rugged outdoor watches. For a reasonable price, it provides GPS, 24-plus hour battery life, heart rate and fitness tracking, and smartphone notifications. Plus it's swim-proof, too.
Suunto Traverse Alpha Watch
For the avid hunter or fisherman, we like the Suunto Traverse Alpha. Besides boasting two different types of satellite navigation, GPS and GLONASS, it also has specific features that make it the perfect hunting watch, like shot detection and a red backlight for nighttime use.  
Timex Ironman GPS Watch
You don't have to break the bank to enjoy the most essential features of a good adventure watch. The Timex Ironman GPS is a lightweight, easy-to-use outdoor watch under $100 that connects to GPS for real-time pace, speed, and distance stats. 
Casio G-Shock Mudmaster GWG1000-1A3 Multifunction Watch
The Casio G-Shock Mudmaster is a rugged outdoor watch boasting the utmost utility. Take advantage of its altimeter, thermometer, barometer, and digital compass on your next mountain backpacking trip. 
Suunto 9 GPS Sports Watch
There are a lot of smartwatches that track your heart rate right from your wrist these days, so why do we recommend purchasing the Suunto 9 with its heart rate belt accessory? Because removing heart rate tracking from your wrist frees up a ton of battery life, making the Suunto 9 one of the best outdoor watches for ultra-marathons and long endurance activities, lasting up to 120 continuous hours. If you need a rugged outdoor watch that takes you past mile 26, consider this one. 
Garmin Fenix 5X Sapphire
Over 100,000 topographic maps of the entire United States make Garmin's Fenix 5 one of the best hiking watch we've come across. Its top-notch navigation tools make it a true survival watch that's ideal for taking on multi-day trips.  
Garmin Marq Adventurer Smart Watch, 46mm
Garmin's new MARQ Adventurer survival watch features a ClimbPro ascent planner, allowing you to see elevation gain in real time, and a Pulse Ox sensor to monitor heart rate and blood oxygen saturation levels, making it the perfect winter sport companion for skiing, snowboarding or trekking. Plus, in the style department, the watch's classic, vintage look feels vaguely Indiana Jones-inspired. 
Apple Watch NikeSpace Gray Aluminum Case with Nike Sport Band (40mm with GPS)
Is the Apple Watch good for hiking? While it might not be the first tool that comes to mind in your arsenal of outdoor gear, its GPS capabilities, plethora of compatible hiking and outdoors apps and the fact that it's totally waterproof makes it's a great outdoor accessory. Plus you can switch out the band from a bracelet or leather version to a durable sport band. 
Breitling Superocean Automatic 44 Watch
breitling.com
$4,200.00
Breitling is the go-to watchmaker for pilots and divers due to its long history of incorporating advanced navigation tools into its timepieces. If your outdoor sport of choice is diving, surfing or swimming, this is one of the best waterproof watches to keep up with you.
Advertisement – Continue Reading Below
Amazon's 30-Day FREE Trials